Everything You Need to Know About Shipping Your Vehicle Across the Country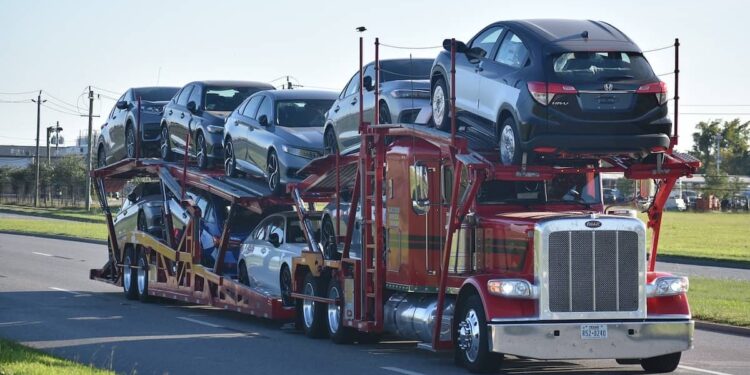 Sometimes we experience significant changes in life, such as a new job opportunity, adding new family members, or even making the big decision to move across the country. A combination of the first two examples could be a reason that you decide to move to another state within the United States as well. If so, consider contacting AutoStar Transport when it comes to vehicle shipping across country.
Our company has been sending cars to their destinations across the country since 2007, and our customers have labeled our team as reliable and transparent. What more could you want from the carrier picking up and delivering your vehicle to you? We offer instant quotes through our website and don't ask for a deposit until a carrier truck has been obtained for your particular delivery. Are you still a little hesitant about sending your only mode of transportation with a delivery driver? Let us ease your worries and give you some more information about shipping your vehicle across the country with us.
What Does It Mean to Ship Your Vehicle Cross Country?
When you move a long distance or purchase a vehicle from another state, our team will help you get the car to its desired location. Cross-country auto transport is a way that we can help you move your vehicle from state to state, coast to coast, or anywhere on the map. You can rest assured knowing that when you ship your vehicle with AutoStar Transport, we offer a reliable, quick, and efficient service that will help get your vehicle where it needs to be without adding extra stress. Relocating your vehicle doesn't have to be difficult, and we offer additional services to help ease your mind while your vehicle is being transported.
The Shipping Process
Some of our customers believe that the shipping process is challenging when it comes to moving their vehicles across the country, but we provide a simple step-by-step process that allows for quick and efficient service. By utilizing our online instant quote calculator, you can see how much it will cost to ship your vehicle to your desired location and what options are available regarding the types of trailers, additional services we can provide, and more. If you have any questions during the booking process, we offer a live chat service so that we can help you through each step. You'll also be happy to know that when you book your cross-country transportation service with our company, there will be no hidden fees, and we only ask for payment when a carrier has been assigned your delivery details.
As soon as the carrier has been located to deliver your vehicle and assigned your details, and payment has been accepted, we will begin to work with your driver about the fine details. After discussing the pick-up and delivery information with the driver, they will give you a call a few hours before picking up your vehicle to ensure that all the information they have is correct. Once the driver has confirmed all of the information and has been assured that the pick-up location will be easily accessible, they will be on their way to receive your vehicle. If an alternative area is needed for pickup, please let us know ahead of time so we can make arrangements with the carrier.
Once all arrangements have been finalized and the vehicle has been picked up, the carrier will begin the trip to your vehicle's final destination. Depending on certain factors, it can take anywhere from a few days to two weeks for your vehicle to make it to the desired delivery location. However, additional services are available to keep an eye on your delivery while it is in transit. We also supply our customers with a unique ordering number to track the location, status, and estimated delivery time. As the carrier nears the site for the delivery, you will receive a phone call stating the estimated time frame for the delivery. If you are unavailable at this time, you can have anyone over the age of eighteen at the delivery site to pick up your vehicle for you.
Estimated Delivery Information
When you request a pick-up and delivery to ship your vehicle across the country with AutoStar Transport, we do our best to give you the most accurate delivery times that we have available. However, these estimates are liable to change depending on different circumstances. It's essential to take into consideration certain weather conditions, the distance of the delivery, and uncontrollable traffic situations. These factors can cause delays in delivery times, but we guarantee that our drivers will do their best to deliver your vehicle quickly and safely.
Our experts and data from past deliveries have shown that, on average, a vehicle transport will go roughly 500 miles in one day. This allows us to provide a timeframe on when the best time to book your vehicle pick-up would be and also the maximum time it would take to receive your vehicle. If you are booking a delivery for about 500 miles or less, the delivery can take about one to two days. If your distance is between 1,500 to 3,000 miles, you can expect the maximum delivery time to be anywhere from 10 to 18 days. However, we are usually able to get your vehicle to you within a smaller time frame if all goes well.
Ship Your Vehicle With AutoStar Transport
If you would like to learn more about our services and book your transport with our company, click here to visit our website for more information. We offer a free, instant quote service that will allow you to enter the information that we need to provide you with a rough estimate of how much it will cost to ship your vehicle. If you are in need of assistance, we also have a live chat feature where one of our support agents can help you along the way with any questions or concerns you may have during the booking process.