What Sets the Hero Passion Pro 110cc Apart?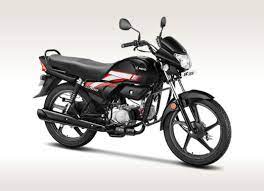 To begin with, it has undergone a significant transformation from its previous edition. A fuel-injected BS6 engine is programmed into the new model. This is to aid the Hero Passion Pro 110cc motor cycle's performance on various types of roads. With incredible mileage and high-tech features, the new headlamp, trademark tail lights, and triple-tone graphics are what catch the eye. This provides the bike a contemporary and fashionable appearance.
More information to guide your purchase
It has an analogue speedometer and a digital trip-meter. It has a pillion seat and an electric start button. The headlight is made with halogen and the tail light is made with a multi-reflector. There is a pass light present with alloy wheels. Unfortunately, it has no clock and no standby warning or indicator (stand alarm). But this doesn't affect the overall performance of the Hero Passion Pro 110cc motor bike. Regarding dimensions and weight, its kerb weight is 117kg with a length of 2036mm. It has a width of 715mm and a height of 1113mm. It has a manual transmission, four gears, twin shock suspension, a conventional fork and an air-cooled fuel system. Amazingly, it has an active battery of 12 V – 3 Ah (MF Battery). Knowing all these features and specifications helps you in the long run. Plus, having all these details makes your motor vehicle purchases easier and more fulfilling.
Never forget insurance after a purchase
Your first time working with any motorbike insurance goes through a procedure. The assigned insurer would ask a few questions to make sure you obtain the right motor rider insurance rate. In many countries, citizens simply adore their hero passion pro 110 cc motorbikes. This is evident by their usage in a variety of ways. Some detailed information will be requested from you to ensure you get the best motorcycle insurance price. If you happen to have a set of motorbikes, you need to be insured for business dealings. Information procedures would also be different. Details about the main rider would be needed as well as giving details of what the motor bikes would be used for. For most insurers, business bike use ranges from delivery services, transport and personal usage. However, all this information goes a long way towards working to your benefit. This ensures that you only pay for what you require.
Insurance Requirements for Riders and Usage
Details are shown below.
*Age and Professional Experience
*The main rider (the person who rides the motorcycle the most) must be between the ages of 25 and 65 and have at least two years of riding experience.
* License and previous insurance are also required.
* Accident and Licensing Records
Knowing these details, you can be well prepared to have your bike insured. Remember, insuring new bikes is the best.
Conclusion
You can only get a rider's insurance if you are the original owner of the motor. Additionally, your Hero Passion Pro 110cc bike must be registered with all the necessary details in your country of residence. Do your best to benefit greatly from the research that is available online. That will help you make the best decisions without struggling. Most people have no idea how to benefit from these unique decisions. Well, it's your time to gain. So, do not waste any time at all.